Mr. Friedman is presently the Music Director of the Symphony of Oak Park and River Forest as well as the Principal Guest Conductor at Roosevelt University's Chicago College of Performing Arts.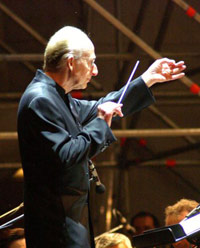 Guest conducting engagements include:
RAI Orchestra Sinfonica Nazionale, Turin, Italy

Daniel Barenboim, piano soloist

Civic Orchestra of Chicago, public masterclass

Mahler Symphony No. 5

Civic Orchestra of Chicago

Wagner, Die Walkure, Act 1 (the Chicago Sun-times called this concert "perhaps the best Civic concert in the past 30 years")

Knox-Galesburg Symphony Orchestra

Faculty orchestra of the Music Festival of Santa Catarina, Brazil 2008

Ein Helenleben

Santa Cecilia Orchestra, Rome

Chautauqua Festival

Honolulu Symphony (tour)

Central Iowa Symphony Orchestra

Malmo Symphony Orchestra, Sweden

Mostly Mozart Festival, New York

University of Gothenburg Symphony Orchestra, Sweden

Sibelius Symphony No.1

Millennium Festival Orchestra

Beethoven Symphony No.9

American Opera Group

World Championship Gothenburg Brass Band
Friedman was formerly the Music Director of the River Cities Philharmonic and the Resident Conductor of the Chicago Chamber Orchestra. His conducting repertoire is extensive and focuses on the works of the late nineteenth and early twentieth centuries.